Learn about the traditional Food in Alsace, France. I share the top must try food specialities from the French region.
Collect ideas on what to eat during your time in Alsace, and of course, don't forget to buy some food souvenirs for back home.
Table of Contents
📕 What is Alsatian Food?
Alsatian food is the regional cuisine from the historical Alsace region in France. This area is now part of the new Grand est region in France.
The area developed food specialties that you won't find anywhere else in France. This is due to its proximity and difficult past with Germany.
Truthfully, Alsace shares numerous Food specialties with the neighboring German Baden-Würtemberg region and the Swiss Basel and Jura cantons.
Yet, Alsatian cuisine is unique in its own right, as it was very much influenced by other French regions over the centuries.
I have listed the most important Alsatian dishes that you should look out for on your trip to Alsace, with the most commonly used menu names.
Dish names on Menus in Alsace are usually spelled out in French or in Alsatian (the local language).
You will find, appetizers, main course meals, desserts, and drinks in this collection and a few link to a recipe, so that you can try them at home.
🍕 Flammkueche aka Tarte Flambée
Flammkueche is a finely rolled out round or square dough, topped with crème fraîche (fresh French cream), small bacon pieces and raw onions. The dish is then lightly roasted golden under the grill.
The name Flammkueche is Alsatian and literally translates to flamed cake/kitchen. On menus, it also appears under the French name Tarte Flambée or the German name Flammkuchen or also as Flammekueche. Internationally, it is at times called the French or German Pizza.
Technically, this dish is not only Alsatian. In fact, neighboring German Baden-Württemberg and the Swiss Basel and Jura region have it also listed as a traditional dish in their menus.
Due to its popularity, restaurants in Alsace have been offering different topping options and I can tell you, each is a delight! We liked the ones with mushrooms equal as much as the ones with sliced Strasbourg sausages!
A pinot gris wine is a suitable white wine addition, served cooled with this main course meal.
Flammkueche with Bacon and Onion Recipe
Flammkuchen aka Tarte Fambée is a Pizza-like dish topped with fresh cream & usually with bacon + onion.
Check out this recipe
🍲 Choucroute garnie
Choucroute is the French word and name for Sauerkraut, which is cabbage fermented in a traditional clay crockpot.
You will have come across this dish in Germany and Austria, where Sauerkraut is prepared with beer and sausage.
Being a very traditional wine country, Alsace prepares their choucroute with white wine instead of beer. It tastes slightly different from the German version, but it is essentially still a tangy and healthy spiced Sauerkraut dish, just as we love it!
That said, you will also come across Sauerkraut prepared with beer in Alsace.
Look out for choucroute garni avec saussi au porc on restaurant menus in Alsace, which is basically Sauerkraut with sausage or pork.
You can also purchase jars of prepared choucroute in food souvenir stores. We saw flavored varieties with apple in a store in Riquewirh and food shopping should be anyway on your to-do list in Riquewihr.
Canned Sauerkraut just needs to be transferred into a pan with a sausage or pork slab and heated and voilà, your homemade choucroute garni is ready!
Choucroute Garnie à l'Alsacienne Recipe
Choucroute garnie is a famous Alsatian recipe for preparing sauerkraut with sausages and cured meats. It contains white wines and a selection of spices.
Check out this recipe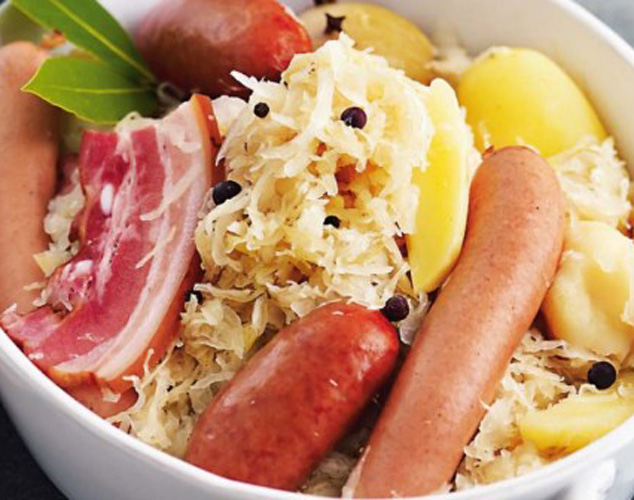 🥘 Baeckeoffe
Baeckeoffe is a very Alsatian specialty consisting of 3 meats and veggies left to simmer slowly in earthenware pottery.
The name itself, Baeckeoffe, means baker's oven. Traditionally, Alsatian women would prepare this dish on a weekend and bring it over to the baker.
Incidentally, it's also the name of the oval-shaped Baeckeoffe Terrine pottery, and the best Baeckeoffe are made in Soufflenheim in southern Alsace.
Pork, lamb, and beef cuts are placed with onions, potatoes, carrots, cabbage, and leeks into the dish with white wine and juniper berries. The slow cooked potées stew was originally just comfort home food in Alsace, but it has been gaining on popularity among international visitors.
If by any chance you are in Strasbourg, the capital of Alsace, you can get some of the best Boackeoffe at Le Baeckeoffe d'Alsace Restaurant.
Baeckeoffe- Alsatian Stew
A one pot stew, this Baeckeoffe won't disappoint. Slow cooked meats marinated and cooked in Riesling white wine with vegetables and french herbs and spices.
Check out this recipe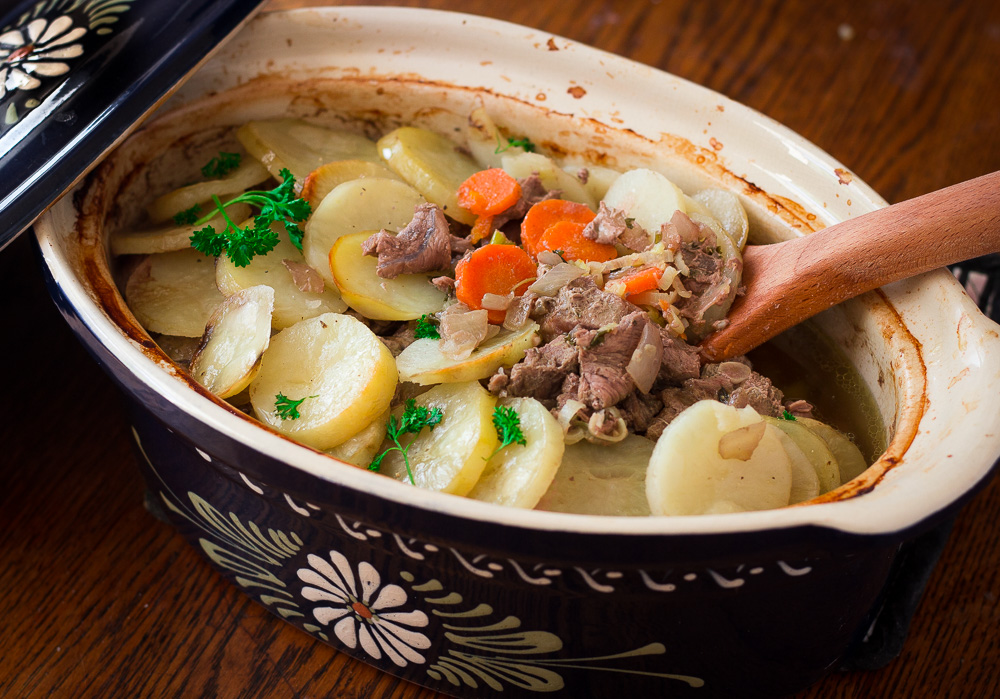 🥣 Goose Foie Gras
Foie gras is a special, and somewhat controversial, food delicacy in France consisting of duck or goose liver. The French name foie gras literally translates to fatted liver.
Served on special occasions, this appetizer is of a buttery soft texture and the flavors are intense. If you love eating livers, or if you like liver pâté, then this is something for you to try.
Alsace, especially the city of Strasbourg, has specialized since the 18th century in artisanal-made goose foie gras, while the rest of France is better specialized in duck foie gras.
So, you have the best chance to try a few slices of quality goose foie gras on a culinary trip to Alsace. We did exactly this, as you can see in our foie Gras pictures taken at the Restaurant Pfeffel in Colmar.
🧀 Munster
Did you know that the beloved Munster cheese hailed from Alsace? To be more precise, Munster cheese is from the Munster valley near Colmar in southern Alsace.
This cheese is served as a course after the main meal with other cheese and bread. It's a soft cheese prepared with cow's milk, and it definitely has a strong flavor.
You will find this cheese at the farmer's market in Hunawihr, Riquewihr and neighboring Ribeauvillé village, but also most grocery stores sell a quality cut of this cheese in Alsace.
🍰 Kougelhopf
The kougelhopf, also spelled Kugelhopf or Kouglof, is a tall bundt cake prepared and baked in a Kougelhopf baking pan. Traditionally Alsatian, you will come across similar cakes in Germany and Austria, such as the Guggelhupf.
Yet, the people in Alsace most certainly celebrate this brioche cake like no other. It has a special place in the hearts of the locals during festivities such as Christmas and Easter.
Most popular Kougelhupf are sweet, but the French like to also bake savory cakes, and therefore you might come across a savory bacon filled Kugelhopf.
Tip: We discovered the French toast prepared with a slice of Kougelhopf at the Bratschall Manala Restaurant in Kaysersberg-Vignoble. French toast is called pain perdu in French.
Kugelhopf (kouglof) Recipe
A classic Alsatian recipe for the Kugelhopf by Marine, an Alsatian blogger! Kugelhopf doesn't have to be dry if it's baked the right way.
Check out this recipe
🌭 Strasbourg Sausage
Unknown to most, but the Strasbourg sausage deserves a place on this Alsatian food specialty list.
The Strasbourg sausage is also called the Knack, because of the breaking sound (Knack in German) that it makes when you break it apart. In French, it's simply called Saucisse de Strasbourg.
It resembles the Frankfurter sausage and the Wiener Sausage with its finely ground pork meat, but the sheep casing gives it a harder outer layer.
Therefore, it is common to remove the outer skin of the Strasbourg sausage after the cooking process. In this regard, this particular sausage resembles the German much fatter and shorter Knack sausage.
You will find Strasbourg sausages in all grocery stores in Alsace. Strasbourg's sausages are often added to chourcroute garni or French green lentils, but you can enjoy it in a hot dog the same way!
🥨 Bretzel
Crunchy on the outside and soft, fluffy on the inside. This is how every Bretzel should be, and the Alsatian Bretzels will enthrall you as much as their German counterparts.
Honestly, we didn't find much of a difference in quality between Alsatian and Southern German Bretzel aka Pretzels.
Essentially, Bretzels are shaped into a knot and taken through a lye solution. This gives them the brown appearance and unique flavor.
Yet, I think quality highly depends on the bakery where you buy the Bretzels. We stumbled upon first class Bretzels at the Kouglopf & Cie bakery in Riquewihr and at Au Marché de Riquewihr restaurant in Kaysersberg-Vignoble.
Alsatian Bretzel Recipe
Soft Bretzel made the French Alsatian way with a lot of love, of course.
Check out this recipe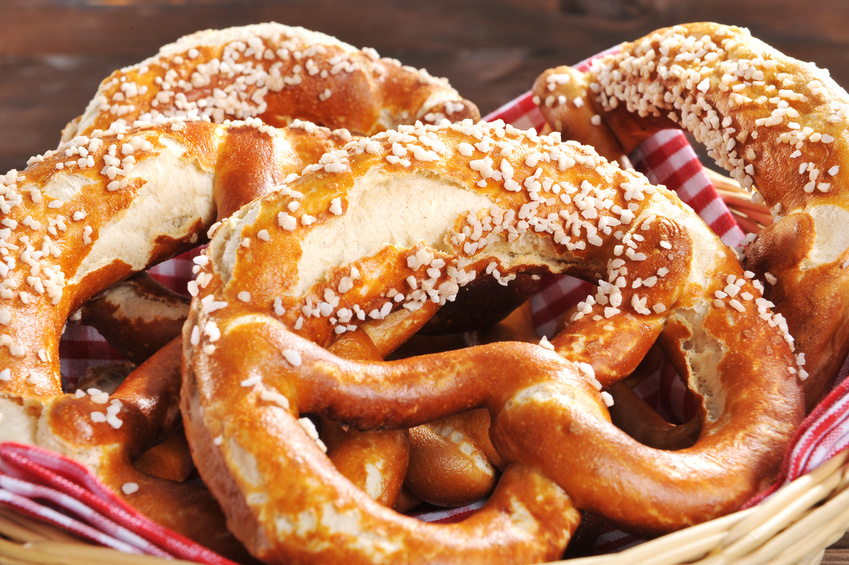 🐚 Escargot Snails
Snails had been traditionally prepared for centuries in Alsace, before escargot became a fashionable Parisian dish during the Belle Époque period.
Today, you will find escargot while dining out on the menu and many are enriched with white wine and parsley.
So, while I haven't tasted them for myself, I thought I'd at least mention them here just in case if you'd like to try them out.
🍝 Spaetzle
Spaetzle noodles are a delicacy in Alsace but also in neighboring German Baden Würtemberg and the Bavarian regions, in Tyrol in Austria, and in parts of Switzerland.
Shapes and ways to prepare may differ in these countries, but one it for sure, Spaetzle always tastes great. You might have come across frozen packed spaetzle noodles at Aldi or Lidl.
A semi-liquid dough is pressed or scraped into boiling hot water, and noodles like little knobs float to the surface when they are done. These Spätzle noodles are then served plain with butter as a side dish or topped with cheese, as for example the Tyrolean Käsespätzle.
It's a comfort food and Mac and cheese fans will enjoy this dish for certain!
How to make perfect Spätzle Noodles [+Video]
Making spaetzle is actually easy. Here, you will learn the step-by-step process to making homemade spaetzle noodles from scratch at home.
Check out this recipe
🥮 Christmas Cookies
Alsace is known as the only French region for baking traditional Christmas cookies, the way the Germans and Austrians do it. These cookies are known as Bredele in the local language.
Years ago, we had a couple from Colmar renting our commercial space in Goa, India, and during Christmastime, they baked and sold traditional Alsatian Christmas cookies.
Some of these cookies include the Manala and Spritz. Most can also be found as part of the traditional baking cookie exchange in German households, but they are each called differently in German.
Besides that, you might recognize sugar cookies, cinnamon stars and many more among the selection of bredele at a Christmas market in Colmar or Strasbourg.
The Manala, also spelled Mannala or Mannele, is a small brioche man and it literally means translated little man. These are traditionally given away to kids during St. Nicholas' day, which is held on the 6th December.
The Pain d'épice is a soft honey spiced cake. It's so popular that you will see it being sold all year round in street markets and small gourmet stores.
🍷 Alsatian Wine
Known as one of the most indispensable wine terroir in France and in the world, Alsace has long been celebrated for producing stellar white wines.
Wines from Alsace are protected by the Appellation d'Origine Contrôlée (AOC), which is France's controlled designation of origin certification.
You will find 4 traditional Grand Crus wines in Alsace, which are all Tier 1 superior quality wines. This includes the Gewürztraminer, the Pinot Gris, the Muscat, and the Riesling grape varieties.
Moreover, keep an eye out for the Crémant d'Alsace, which is the region's own sparkling wine. It's just like a champagne but produced in Alsace and you will only get it there. Champagne can only be called that way if it was produced in the Champagne region in France.
I highly recommend taking the oldest wine route in France, the Alsace wine route. We did this tour and loved discovering towns and villages along the way.
They are all a pretty sight and the best food and drink are served along the way, and this trip will certainly enrich your Alsatian wine and food expertise.
Alsatian wine is served in pottery jugs and the glasses are special in their shape, and they come with green stems. You can buy these in souvenir boutiques across the state and you won't find the anywhere else in France.
💶 What's the cost of Food and Drink in Alsace?
Food prices, when eating out or when buying foods at markets and grocery stores, align with Paris and other northern tourist destinations, such as Rouen, in France.
Yet, Alsace is influenced by its proximity to Germany and especially to Switzerland; therefore, you will notice that prices might appear bloated in menu cards and in food boutiques.
Things are most definitely pricier in touristy places such as Strasbourg, Colmar and Riquewihr, I won't deny it. Especially if you are looking to dine out during the summer months or Christmas season in the old towns.
Food boutiques offer gorgeous looking jars of canned food specialties from the region and there is a great choice, but things are usually overpriced.
That said, you will never be disappointed by the quality, and it might be a great buy if you consider the added buying atmosphere.
If the seller is taking your requests (as long as they are reasonable) and if he or she is great at recommending specialties, then just go for it. Remember, you also pay for the service, not just the product.
💡 Top Food Tours in Alsace
A food tour with a local guide can be a fun way to discover more Alsatian specialties. You also get the chance to ask questions and guides tend to share little fun facts and traditional food etiquette.
I highly recommend signing up for a food tour if you love Alsatian food and if you are eager to know more about this cuisine while on your trip to the region.
🇫🇷 More French Regional Food Favorites